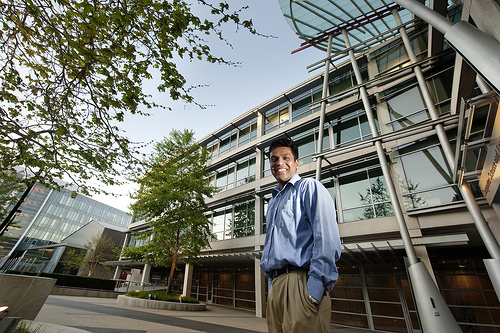 I am a faculty member in the School of Computer Science at Carnegie Mellon University. My research interests are at the intersection of Systems and Networking and Embedded Systems, and I am particularly excited about research problems that benefit from using hardware insights to build more scalable and energy efficient systems.
I am the Founder and the Director of the Systems Networking and Energy Efficiency -
SYNERGY Labs
. From 2010-2013 I served as the Executive Director of the
NSF Expeditions in Variability
. At UCSD I was a member of the
Microelectronic Embedded Systems Lab (MESL)
and the
Systems and Networking Group (SysNet)
.
AY 2022/2023 Update:
I am always looking for good students to join our SYNERGYLAB at CMU. We have several projects in the Internet of Things and the Mobile Computing space, particularly looking at privacy and security challenges. We also have a long-running project on EduSense, where we are building the classroom sensing fabric for the future of smart campuses classrooms! We also have a longer running project to build the
software stack for IoT and Smart Buildings,
and various 'apps' on top of it. The
Publications
link at the top of the page provide an overview of the current research directions of our lab. If you are awesome and are motivated to work on really exciting and socially relevant projects at the intersection of hardware and software systems, while maintaining security and privacy contact me by email.
PhD Applicants:
If you are a PhD applicant there are multiple programs at CMU that you can apply to and work with me. Many of my current students are a part of the
Societal Computing PhD Program
which I strongly encourage you to look at. I also advise students admitted to the ECE and the CSD PhD programs. If you want to work with me, send me an email *after* you have applied to these PhD programs. You can mention that you would like to work with me in the application and your research statement if you like the style of work my students and I do.
An Important Note:
Admission decisions at CMU, and many other top PhD programs, are done by a separate admission committee. Individual faculty members have no say into who is admitted to the program and are only involved (if at all) once the admission committee bar is met or even when the students come to visit. As such, emailing me your CV and material and asking me whether you have a chance is not going to help *at all* since most faculty members won't respond since we simply cannot answer that question. :-)
Students @ CMU
If you are a PhD / MS / Undergrad student already at CMU, please email to set up a time or drop by my office.
Recent Publications: &nbsp&nbsp&nbsp&nbsp
USENIX'23 | MobiSys'22 | Oakland'22 | ICCPS'22 | CHI'22 | CHI'22 | CHI'22 | IEEE S&P'22
|
Selected Publications:

"ProtectMyPrivacy: Detecting and Mitigating Privacy Leaks on iOS Devices Using Crowdsourcing"
ACM MobiSys 2013 -- International Conference on Mobile Systems, Applications and Services, Taipei, June 2013.

"BuildingDepot: An Extensible and Distributed Architecture for Building Data Storage, Access and Sharing"
ACM BuildSys 2012 -- Workshop on Embedded Sensing Systems For Energy-Efficiency In Buildings, Toronto, November 2012.
(Nominated for best paper)

"Duty-Cycling Buildings Aggressively: The Next Frontier in HVAC Control"
IPSN/SPOTS 2011 -- International Conference on Information Processing in Sensor Networks, Chicago, April 2011.

"SleepServer: A Software-Only Approach for Reducing the Energy Consumption of PCs within Enterprise Environment"
USENIX ATC 2010 -- USENIX Annual Technical Conference, Boston, MA, June 2010.

"Somniloquy: Augmenting Network Interfaces to Reduce PC Energy Usage"
USENIX NSDI 2009 -- USENIX Symposium on Networked Systems Design and Implementation, April 2009.

"WirelessWakeups Revisited: Energy Management for VoIP over WiFi Smartphones"
MobiSys 2007 -- International Conference on Mobile Systems, Applications and Services, Puerto Rico, June 2007.

"CoolSpots: Reducing the Power Consumption of Wireless Mobile Devices with Multiple Radio Interfaces"
MobiSys 2006 -- International Conference on Mobile Systems, Applications and Services, Uppsala, June 2006.
Complete list of Publications....
Last Updated by Yuvraj Agarwal on 11/9/2022 &nbsp&nbsp&nbsp&nbsp
Back to Top